Contact Details: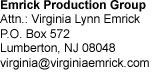 Dear Friends,
Thank you for visiting my website. I hope you've enjoyed your look into my life and my work and I'd love to hear from you. I welcome your article comments and interview requests.
If you'd like me to interview you or review one of your creative works for an upcoming article, please contact me. I'm also open to requests for collaborations, special commissions or freelance writing. Please include the nature of your project and its timeframe and if available and interested, I will contact you for more information.
If you have questions about writing in general, I'm more than happy to try to answer them. However, I regret that I cannot offer writing consultations at this time, nor can I accept unsolicited materials. If you would like feedback on your own work, please look for a writers' group or class in your area (check my blog articles for suggestions) and stay tuned for my future workshops.
I look forward to hearing from you.
Regards,
Virginia